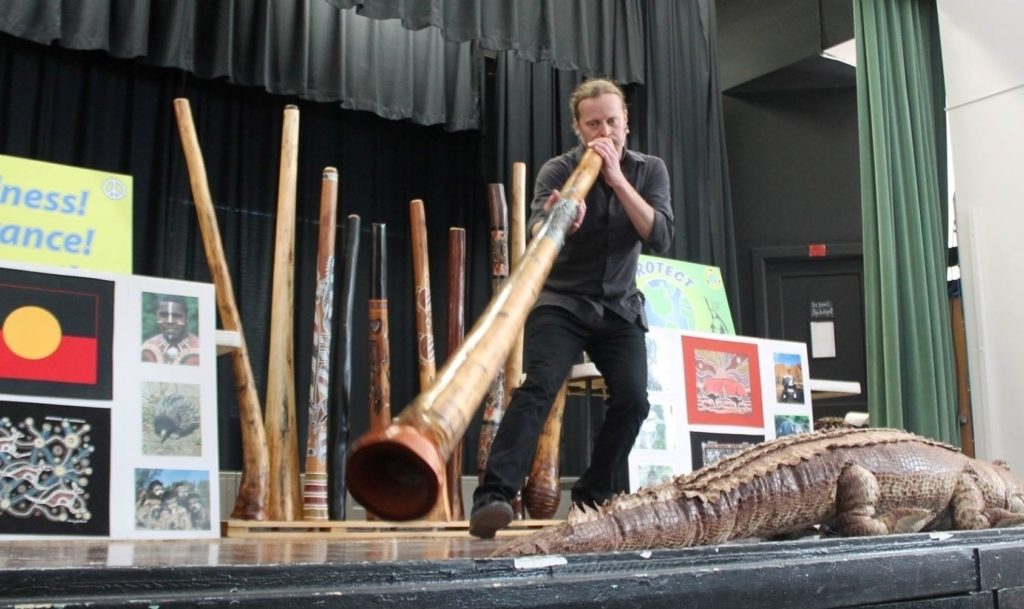 Join us on an epic musical, theatrical and scientific adventure, from the birth of the universe to the age of dinosaurs to the modern world. Multi-talented performer Rob Thomas will weave didgeridoo / world music, a theatrical performance and awe-inspiring projector visuals into a captivating and interactive program. Students will learn how the air we breathe was created; they'll marvel at prehistoric creatures roaming primordial landscapes; they'll explore a mysterious underground plant communication network (the Wood Wide Web); they'll observe interactions between different animal species; and perhaps most importantly, they'll learn how to protect our beautiful and beloved Earth. But this program is much more than science. Throughout the show, Rob will perform world-fusion music with his vast collection of unique didgeridoos and various percussion instruments. The didgeridoo has been played by Australian Aboriginal people for at least 1500 years. Rob plays a modern style, mixing fast-paced rhythms with relaxing soundscapes and organic sound effects. Some students will be invited on stage to play clap sticks during one of Rob's musical pieces. During a section on the Industrial Revolution, Rob will perform as character from that period (including top hat and accurate clothing). This show is interactive, educational, motivational and highly entertaining for all ages! Rob Thomas has performed at hundreds of schools, libraries, festivals and other venues over the past 20 years. He also has recorded several CDs and has produced music for numerous films, including the IMAX movie Sacred Planet.
Use this link to view a video excerpt from this program: https://www.didgedownunder.com/gallery
Both in-person and virtual (live and pre-recorded) options are available for this program.
---
Artist Background
Didgeridoo Down Under is a leading K-12 educational entertainment company in the U.S. We specialize in weaving cultural arts, core curriculum, character building, motivational speaking and audience participation into high-energy shows and workshops (both in-person and virtual) for all ages. Since 2004, we've presented more than 8,000 programs at 4,000+ schools and other venues nationwide. DDU's main national touring performer, Rob Thomas (based in North Carolina), has played and made didges for 20+ years; has recorded several albums; and has produced music for numerous films, including the IMAX move Sacred Planet. Rob sometimes performs with his wife, Tanya, who grew up in Australia, and who also has written a children's book, The Adventures of the Wild, Wild Wolf.
---
Search Criteria