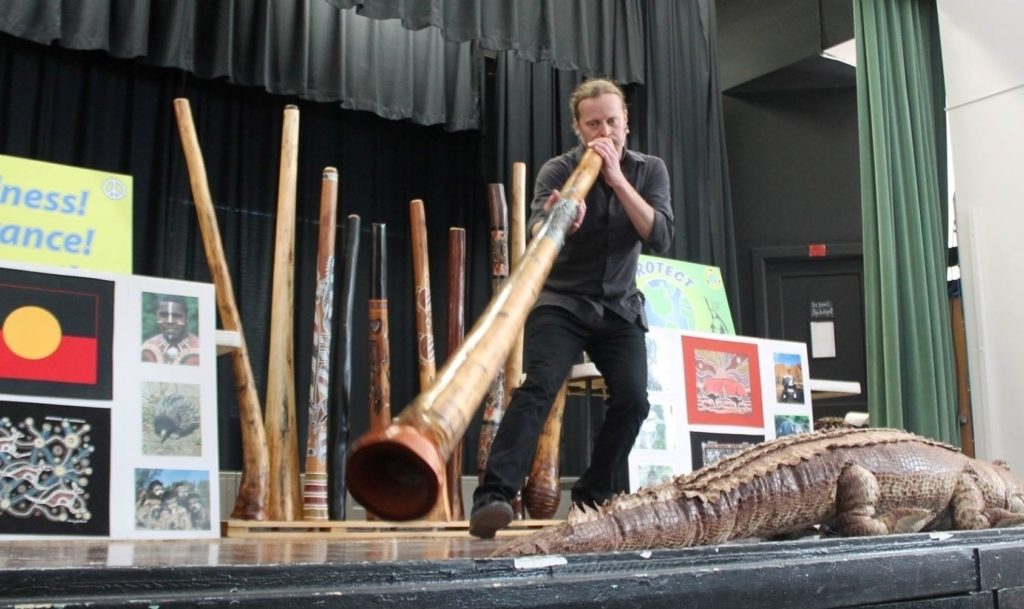 "The shows were fantastic! Parents have told me their children talked about it nonstop that evening, and many staff said it was the best show they had seen. Kids were engaged, learning and having a great time!" – Shannon King, PTA, St. Raphael Catholic School, Raleigh
The Didgeridoo Down Under Show is an energetic fusion of Australian music, culture, comedy, character building, anti-bullying, storytelling and audience participation. The didgeridoo has been played by Aboriginal Australians for at least 1,500 years, and is known for its otherworldly sound. During the show, we play a variety of exotic didgeridoos and worldly percussion instruments, demonstrating various playing styles and upbeat rhythms. We also use a multitude of props – puppets, artifacts, artwork, motivational signs and more – to deliver educational lessons and empowering messages. The program is very participatory, and several segments involve students playing instruments, dancing or acting out a story. We adjust our programs according to the audience's grade levels. DDU will motivate your students to appreciate world music and art … respect multiculturalism and diversity … get excited about learning and reading … think creatively and imaginatively … act with kindness and acceptance … stand up against bullying … protect the environment … and become better global citizens. The DDU Show is interactive, educational, motivational and super fun for all ages!
"Rob was fantastic! The children loved him!" – Bess Creech, PTA, Lacy Elementary, Raleigh
"Your show was wonderful." – Melissa Cassario, Music Specialist, Durant Road Elementary, Raleigh
"Rob Thomas is amazing!" – Secret Sutton, PTA, Neuse River Middle School, Raleigh
"The show was top notch from start to finish!" – Meagan Seymour, Curriculum Director, Heritage Leadership Academy, Apex
---
Artist Background
G'day! Didgeridoo Down Under is a leading K-12 educational entertainment company in the U.S. We specialize in weaving cultural arts, core curriculum, character building, motivational speaking and audience participation into highly energetic and interactive shows and workshops. Our program themes range from Australian cultural arts to science, character education and more. Since 2003, we've presented 9,000+ programs (both in-person and virtual) at schools and other venues nationwide, and we're based in North Carolina. DDU performers Rob Thomas & Tanya Gerard have performed at schools and other venues throughout the U.S. for 20+ years and have produced music for numerous films, including the IMAX movie Sacred Planet. Tanya, who grew up in Australia, also has written a children's book, The Adventures of the Wild, Wild Wolf.
---
Search Criteria