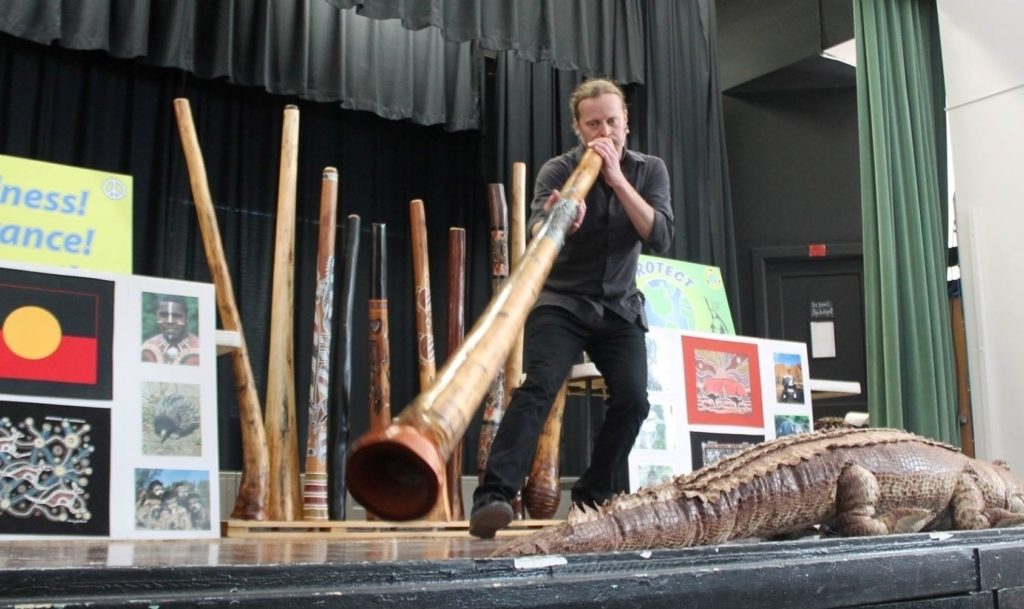 The didgeridoo is an Australian Aboriginal musical instrument with an otherworldly sound that's as exotic as its name. In this upbeat workshop, participants learn to play the "didge," including animal sounds and simple rhythms, with beginner didgeridoos. Participants also learn how to craft and paint their own didgeridoos (on their own time) with household items like cardboard tubes. The Aussie Funk Jam is cool, funky and unique . . . a one-of-a-kind musical and cultural experience! This program is best for ages 8+ and 40 or fewer students, but mature youngsters and slightly larger groups are OK. Programs are adjusted according to age levels and learning objectives. In workshops for middle/high school, for example, extra time is spent teaching the fundamentals of circular breathing. The workshop works best as an accompaniment or follow-up to the Didgeridoo Down Under Show.
Use this link to view a video excerpt from this program: https://www.didgedownunder.com/gallery
Both in-person and virtual (live and pre-recorded) options are available for this program.
---
Artist Background
G'day! Didgeridoo Down Under is a leading K-12 educational entertainment company in the U.S. We specialize in weaving cultural arts, core curriculum, character building, motivational speaking and audience participation into highly energetic and interactive shows and workshops. Our program themes range from Australian cultural arts to science, character education and more. Since 2003, we've presented 9,000+ programs (both in-person and virtual) at schools and other venues nationwide, and we're based in North Carolina. DDU performers Rob Thomas & Tanya Gerard have performed at schools and other venues throughout the U.S. for 20+ years and have produced music for numerous films, including the IMAX movie Sacred Planet. Tanya, who grew up in Australia, also has written a children's book, The Adventures of the Wild, Wild Wolf.
---
Search Criteria